Reviews Ben's Natural Health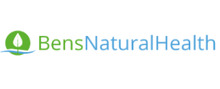 In 2006, every 1 out of 5 adults was looking for natural or herbal supplements in the United States of America. People use supplements for various reasons like improvement of health, fulfilling deficiencies, treatment of disease, muscular strength, weight loss and weakness after recovery from disease. The natural supplements are made from plants, herbs, shrubs and fruit extracts. These natural extracts contain vitamins and amino acids. Most supplements can be used in any form like tablets, capsules or syrups. Nowadays, many nutritional companies are offering food supplements for different problems faced by patients.
Many patients move towards natural supplements because of prolonged illness instead of using medication. Researches have now enabled us to make supplements for every age group including kids and senior citizen. Ben's Natural Health is a research and manufacturing concern of natural dietary supplements. Ben Ong, a United States resident, is the founder of Ben's Natural Health. We have the customer reviews of health seekers on our website who have experience of using Ben's Natural Health supplements. They can be of possible interest to others who intend to use natural supplements.
About the Ben's Natural Health
The company was founded in the year 2000 by Ben Ong. Ben Ong was inspired by natural supplements when he got an illness. He was prescribed a lot of medicines. However, after learning side effects, Ben decided to find a solution by his research. Ben continued learning about natural supplements for years. During discovering the cure of his illness, he made a team of physicians, nutritionist and few other medical professionals to make supplements for every possible deficiency, illness, physical and cognitive need. The 1st supplement they made, was for prostate disease and now they have multiple supplements of different efficacies.
Products and services provided by Ben's Natural Health
Are you a nutritionist or someone looking for nutritional support? Ben's Natural Health supplementsare available on their online shop, www.bensnaturalhealth.com.Their supplements are divided into five different categories. These are prostate, diabetes, sexual health, general health and anti-ageing. In prostate and sexual health, they have Vegicaps, B Complex, tincture, power enhancer, healers, estrogen clearing and a total prostate health program. The diabetes category includes a reading book and a Glyco-optimizer.
The general category supplements are Antarctic Krill, Deep Sleep and Beta Glucan. They are supplying natural supplements across borders. With all other services, they also offer affiliate programs for possible rebates and discounts. Apart from supplements, Ben's Natural Health gives consultancy to patients that reach them via their website "support tab" or telephone number. They have a team of doctors, authors and medical practitioners with specialities in prostate, diabetes, physical fitness and chiropractics.
Compliments, Complaints and tips for Ben's Natural Health
Ben's Natural Health also has a review and rating section embedded by the "Trustpilot" for their patients. On the other hand, their social media pages are also taking feedbacks to remain in continuous research and development. The patients, youngsters and sportsmen that already have used one of their supplements can also leave a comment here on ReviewsBird.com. Your advice can provide an understanding for the people surfing for natural supplements for their unattended food scarcities.