Reviews ABC Carpet & Home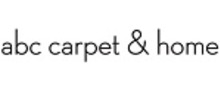 At present, we are living in a fast and changing environment. Traditions are fading and the digital era has taken its place. However, few traditions are still alive. Handmade carpets and rugs are considered essential to decorate home, restaurants, offices, etc. This tradition started in the Middle Eastern and Persian regions of the world. Modern businessmen are also aware of this old tradition. They are indulged in mixing old and new age traditional carpets as well as furniture to preserve the art within the modern designs. ABC Carpet & Home or abchome.com is one such organization trying to present old tradition with a new look. "abchome.com" is not limited to making handmade carpets and rugs. They have different products from home furniture to handy crafts. In addition, they have also opened restaurants.
ABC Carpet & Home welcome their customers in Manhattan and Brooklyn-New York at their showrooms and restaurants. The feedback and customer reviews of "ABC Carpet & Home" can provide sufficient information about the company and its values. Our general businesses page has some reviews for you to read.
About ABC Carpet & Home
ABC Carpet & Home is situated in New York, the United States of America. They have two showrooms. One in Manhattan and the other is in Brooklyn. Although, their area of the main focus was Carpets and home interior. However, they have also entered into the food and restaurant business. In addition, carpet cleaning service for carpets and throws is provided by ABC Carpets & Home.
Products and services provided by ABC Carpet & Home
The products and services offered by ABC Carpet & Home are categorized as Impact, Trade, Cleaning and Food. "Impact" is their category in which they sell handy crafts made from mud, wood and threads. Their product mix is inspired by traditional carpets and modern furniture. The cleaning facility is dedicated to reshaping the old rugs and carpets and making them useful once again.
ABC Carpets and Home Décor also serve food to their customers in three different ways. ABC Kitchen is serving takeaway and online clients. ABC Cocina is the dining area of the restaurant where ABC has created a traditional and old food heritage environment. ABC V is their area for small parties, farewells and get-togethers. The speciality of this area is its decoration with natural plants. Apart from home decor, women looking for their next diamond earrings, pendants or maybe a ring, can find some possible traditional options in ABC Carpet & Home.
Compliments, Complaints and tips for ABC Carpet & Home
Did you have the experience of using ABC Carpet & Home products and services? You can share your review on their website. ABC Carpet & Hometakes queries, customer reviews andfeedback at their website. They are very keen to know more about their products and services. You can also leave your feedback and reviews on our review platform which can help others looking for similar products or services. Your honest and informative opinion is requested.