Reviews ForeverMissed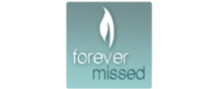 Memories keep us alive, and they remind us of what took place, how it took place and the consequences of those events. Sometimes memories are full of bitterness and sadness. However, they carry valuable lessons that explain the validity of life and give us clarity. Keeping the memory of your loved one is essential, and even more important is the ability to remember the details. It is as if you are in the moment. The Internet has been used as being medium to store memories, especially captured life events, e.g., birthdays, graduation, weddings and burial ceremonies. Eulogies and bibliographies can also be stored digitally. Many online memorial websites are repositories of memories shared with loved ones. They allow their clients to create pages in memory of their loved ones, and these pages are therefore hosted online. Other people can also pay their tribute by writing on the page about their memories with the deceased.
About ForeverMissed
ForeverMissed is an online memorial repository founded by Oleg Andelman in 2008 to enable people to create online memorial pages and share memories of people they have lost. The idea was born from a need to find a way to create a life story of her grandparents. He also wanted to invite everyone who knew his grandparents to pay their tributes. He and his friends embarked on creating a platform for other people like him who would love to remember their loved ones and allow their children to experience the kind of life their loved ones lived. By giving people chances to create web pages for commemorating their loved ones, Oleg Andelman and his team have seen over two million tributes and over one hundred and fifty memorials. ForeverMissed allows their customers to create, host and share photos of their loved ones easily by simplifying the interactive process to increase user experience. The platform also allows tributes from friends on the web page.
Products and Services of ForeverMissed
ForeverMissed product is the personal memorial website for people to share memories of the people they have lost. They allow their clients to create memorial websites, and they have different plans ranging from free to paid plans. Their clients can also collaborate with different people; these collaborators include family and friends, who are at liberty of writing about their memories about the deceased. The free plan has a limited amount of photos to be included, but they are Ads free. The premium plans have unlimited photos, among other features and can be paid monthly, yearly or a lifetime payment.
Compliments, complaints and Tips for ForeverMissed
ForeverMissed focuses on enabling clients to have the best experience and find it easy to use their products when starting a memorial web page. They have been complimented for making the process easy and relatable. There are simple steps to get started, which has pleased a lot of their client. Their pricing model is also reasonable, and therefore, many people have taken the paid version. If you have used their products, leave a review on ReviewsBird.com.
General Sniper | SCRIMS VS TEAM SHIPHTUR/ADRIAN RIVEN! (Twitch Rivals)