Reviews Garrett Wade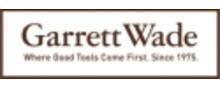 Whenever you need to repair an aperture on the wall, you must not always call a specialist. You can do the repairs on your own if you have hand tools. Hand Tools make tasks to be accomplished immediately. Garrett Wade is an online shop that sells various hand tools that you can use on different occasions, either for indoor or outdoor purposes. The tools are made for gardening, office purposes, woodwork and even handcrafting tools are available for purchase. However, before you buy an item from Garrett Wade, be sure to go through their previous customer reviews and see what other customers say about their products and services.
About Garrett Wade
Garrett Wade is a family business that was established in 1975 by Garretson Wade Chinn. It is located in Cincinnati, Ohio and DUMBO, Brooklyn. They specialise in merchandising hand tools for various purposes. Initially, Chinn sourced woodworking tools from different places around the world. His primary purpose was to revive the use of hands to do activities like woodwork. Over the years, Garrett Wade created hand tools for homeowners because of the decreasing demand for woodwork. The company has also played a role in the success of other woodworking companies such as Lee Valley and Lie Nielsen Toolworks.
Products and Services of Garrett Wade
Garrett Wade specialises in selling hand tools for different purposes, such as gardening tools, outdoor tools, workshop tools, and home and office tools. Under gardening tools, you can browse in cultivation, pruning, weeding, or watering, depending on what you want to do. The tools are available depending on their prices and place of origin. Garrett Wade sources their tools are Germany, Europe, Japan, Italy, the United States, Belgium, the United Kingdom and France. You can also select your tools according to the star ratings. Garrett Wade ships all the stock products within one day of making the order, but this also depends on your location. They offer three methods of ordering their tools. The first one being, by mail, using money order, credit card or check, secondly, by calling them on their toll-free telephone line or by fax using credit card and thirdly, by online payment using a secure payment using your credit card. Garrett Wade accepts various payment methods such as MasterCard, American Express, Discover, Visa, PayPal, Money Orders, and personal or business cheques only if you are a United States resident. You can return items purchased from Garrett Wade within 90 days from the day it was delivered to you. Orders within the United States are shipped between 1 and 2 business days. International orders are only for Canadian residents. Shipping rates depend on the weight of your products, the speed of delivery and your destination. Check the website for their clearance sale to get discounts.
Compliments, Complaints and Tips for Garrett Wade
Have you purchased any tools from Garrett Wade? How were their products and services? Would you recommend them to a friend? Leave your feedback about your experience shopping with Garrett Wade.