Reviews Getnamenecklace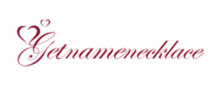 Most women love jewelry and if that jewelry can be personalized then it brings it to a whole new level.
Personalized jewelry is so much more than just the regular off the shelf designs that everyone is wearing.
When it's personalized, there's an extra level of uniqueness.
And when that personal touch is added to a gift then it lifts the gift into something special. The person you're giving it to knows that you've put a lot of thought into gifting them something that isn't just ordinary, but made just for them.
That's a special thing.
So next time you want to give a gift, consider looking online for personalized gift making services and you'll be able to say much more with your presentation. When you're buying online, especially for a different service like this, check the reviews before you buy to make sure that you are buying from a reputable seller.
About GetNameNecklace
GetNameNecklace are an online jeweler store that specialize in personalized gifts.
On the company website, they reveal that they have a team of designers who are able to turn names and initials into unique pieces of jewelry.
Factory procedures are streamlined to give a prompt service.
Products And Services Of GetNameNecklace
There is, as you would expect from the name, a large selection of necklaces. Within this category, you can choose from a dizzying array of styles, colors and weights of necklace.
Your name or initials can be added to these necklaces in almost every conceivable way. You'll be sure to find something that suits your taste.
If you so want, you can have a photograph turned into a necklace. The picture can be turned into an engraving or even transfer printed onto the necklace.
You can also choose from the range of projection necklaces, monogram necklaces, infinity necklaces and a whole raft of other designs.
Rings are another product line, and again, these too can be personalized. You can choose your name or initial, just as with the necklaces.
Within this category, you will find a wide selection of styles and colors to suit all tastes.
Bracelets and earrings, again, can all be personalized and again, there are a wide range of styles for all occasions and tastes.
You'll be best to check the website and browse through to get an idea of the array of designs available.
Printable charms are also an option if you want to wear something very different.
There are also a selection of Mothers Day gifts, along with a sale section and a newly arrived section, so check the website for more.
GetNameNecklace offer free shipping and 99 day returns on their products.
Compliments, Complaints And Tips For GetNameNecklace
Have you purchased any items from this store? If you have then we would really like to publish your customer review.
By giving us your feedback on your customer experience you can help us to help others who are in a similar position as you were and considering purchasing from this store.