Reviews Hale Groves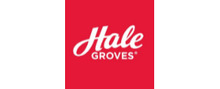 If you want to eat fresh fruits or wish to gift a fruit basket to your loved ones, you can always rely on Hale Groves. This only store provides you with all citrus, fall, and summer fruits on your doorstep. They also offer baked goods, snacks, and Gourmet Assortments. Moreover, you can join their monthly fruit clubs and citrus lovers clubs as well.
You should confirm your order 10-12 days before any upcoming holidays. And for Canadian orders, it should be 15-18 days earlier. They deliver their parcel according to the kind of delivery you have chosen. If the gift you order doesn't arrive fresh and perfect, if you and your gift recipients aren't delightful, they will make it right.
You can also track your order by the tracking number provided to you. If in any case you still have a problem, you can contact customer service. Along with that, we request you to leave your customer reviews on Reviewsbirds to help other buyers.
About Hale Groves
Hale Groves will help you get through all the occasions, special days, holidays, and causal days by providing you the fresh fruits, baked goods like; fruit cakes, cookies, brownies, e.t.c. Moreover, they provide customers snacks such as; nuts, dry fruits, candies, and breakfast favorites. The fruits they have includes; tangerines, honeybells, sugar belles, valencia oranges, summer and fall fruits. You can order gift boxes as well that can contain different items according to the basket you selected.
Products and Services of Hale Groves
You can get a sample tray to four trays in your standard pack, although it may take a week or the same day for your order to get delivered to you. Hale Groves citrus fruit season begins in mid-November and continues into June. The fruits are picked, packed, and shipped quickly to ensure fresh arrival at your door. The temperature-controlled trucks rush your orders to most areas, then standard local delivery to your home is made by the U.S. Postal Service. Delivery Times, Shipping, and Handling. They do not ship to Europe.
How to care for your citrus?
Oranges last longest in a cool area when ventilated, it can maintain their flavor and quality for up to six weeks when refrigerated between 35 degrees Fahrenheit and 50 degrees Fahrenheit. Wipe off any surface moisture. Do not store in a plastic bag. Grapefruit is best stored between 50 degrees Fahrenheit and 55 degrees Fahrenheit in a well-ventilated, cool area away from moisture. The skin of the grapefruit can discolor if left in the refrigerator too long. Since it is a tropical fruit, it is sensitive to cold, but only superficially. Blemishes on the peel do not affect the flavor of the fruit inside.
Compliments, Complaints, and Tips of Hale Groves
Have you bought any fresh fruits from this store? We encourage you kindly share your experiences and feedback with us. We would be glad to hear from you; we also recommend you mention all the pons, cons, and suggestions on our website. Your reviews will improve their services for you.