Reviews iKamper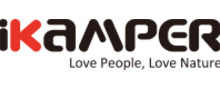 Nature is beautiful and we must admire it but how can we admire it? The answer is simple, we can admire the nature by exploring. We can travel to different locations like mountains, deserts, beaches and a lot of other natural places that portray the true image of nature's beauty. Most people prefer to go to the mountains and spend quality time in beautiful places and admire nature's true beauty that is still not ruined by mankind. However, it takes courage and the availability of the time to go to the mountains and explore but most importantly it requires all the necessary gear and planning.
Spending time in the mountains while being cut-off from the world might sound interesting but it is not easy unless you are fully prepared. Staying in mountains and sleeping under heaven in a tent might sound astounding but it is difficult.
You have to plan everything right from the start till the end, you have to prepare yourself accordingly and bring all the necessary stuff with you in order to make your trip enjoyable, memorable and hassle-free.
In this review, we will talk about a company that manufactures and supplies world-class camping accessories such as rooftop tents, rooftop tents accessories, all in one outdoor kitchen systems i.e. IOAKS.
You can know more about the brand here at Reviews-bird.
About iKamper:
iKamper was founded in 2012 in South Korea by Soon Park, iKamper's founder and CEO when he returned to his homeland from the United States of America from a tour between 2009 and 2012 with his family in which they travelled 58,000 miles around North America. The difficulties he faced on the tour and the experience he gained from it laid the ground of this brand. iKamper strives to provide adventurers with the best camping equipment. Ever since their first sale in 2014, they have sold a huge number of camping equipment all around the world and they aspire to be a top brand that sells camping goods in the world.
Products and services offered by iKamper:
Some people say that money doesn't buy happiness but in the case of an adventure, money does buy happiness. iKamper manufactures and supplies world-class camping equipment that is unparalleled in the whole world. Major products of iKamper are Rooftop tents, Rooftop tent accessories, All in one outdoor kitchen systems, awning, extra canopy poles, outer storage shelf, shoe rack, inner insulation tent, mounting bracket locks, mounting brackets, vinyl canopy, wind reflector, ladder extension, retrofit canopy windows, spare ladder, propane adapter for all in one outdoor kitchen systems – IOAKS and much more.
Compliments and complaints about iKamper:
Customers are a great source to get trustworthy and honest reviews. Their reviews are valuable because they are unbiased and not only help rate the brand properly but also help the buyers to make the decision to buy a brand's products or services. Most of the reviews about iKamper are positive but we would appreciate if you will give your reviews at Reviews-bird.
Online Store Warehouse Tour