Reviews AlphaMarts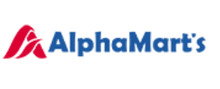 Ecommerce is the use of technology as a selling medium. It is a platform that enables vendors to connect with the market anywhere in the world. Technology's constant improvement has revolutionized how we trade and given us a window to a variety of goods that the market is offering. It has also, in great length, exposed commodities to the market, allowing the buyer to have control over what to purchase, and the vendors to innovatively target their niche. Therefore, it has led to the rise of many e-commerce platforms all over the world. The global retail e-commerce sales are projected at 27 Trillion by 2020, among the industries that have adopted the use of technology and innovation is the furniture industry. With the increasing need for quality furniture, the customers can compare and choose the best furniture and make orders at their comfort. Vendors have innovated various ways to provide a better customer experience.
About AlphaMarts
Founded in 2003, AlphaMarts is a private enterprise based in Las Vegas, Nevada, US. It is an online shopping platform for home products, camping/outdoor and patio furniture. It gathers both designer and manufacturer brands and exposes them through their online shopping platform. Members, therefore, can access a variety of their products with ease and at an affordable price. The adoption of technology and innovation has helped its customers to access a wider range of designer conveniently and manufactured brands, purchase, and process billing information for all of its products ranging from home furnishings, patio, camping furniture, among other outdoor and indoor items.
Products and Services of AlphaMarts
Currently, AlphaMarts has three brands, which are Alpha Camp, Alpha Home, and Phi Villa. Alpha Camp includes outdoor camping equipment, and Alpha Home consists of all bedding and kitchen furniture. Finally, Phi Villa includes patio and garden furniture sets. AlphaMarts is flexible, it accommodates both high and low volume purchases, and the customers can complete orders through their official platform. Their product collections include patio furniture, patio accessories, camping, home and kitchen, beauty, and personal care. Their products have manuals for helping their customers to set up the ordered item, and also they have a return policy in cases where the customer is dissatisfied with the product. They have experts who are available for customer support.
Compliments, Complaints, and Tips for AlphaMarts
The company values customers' feedback. They encourage them to leave reviews, which is, in turn, used to improve the quality of their service. AlphaMarts customer reviews have enabled them to be ranked at 67th position in the furniture category as among the best furniture sites. They also offer free shipping as an after-sales service. However, they have been accused of several bad customer services, some of which include accepting orders which are in reality out of stock, canceling customer's orders without informing them, orders remaining pending for a long time, furniture that has defects among others. However, they also have customer support services that have quick response time and, therefore, improve customer relations. If you have used their products, leave a review on ReviewsBird.com.
Witchy Online Shop with Me! (deer antlers, candles, and herbs)