Reviews Belle and June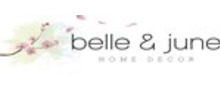 Who doesn't want to live in a well-decorated house? A nicely decorated house makes a peaceful and relaxing environment that has an important impact on mental health. Home décor is not limited to just furniture. Every aspect has its peculiar importance. Decorating a home, office or any other place is not an easy task. People hire interior decorators to make their places eye-catching and impactful.
A well-decorated place is not just filled with expensive throws, wall hangers, curtains, furniture, it's also a replication of the taste of the residents or company or hosts. Are you interested in embellishing your house? if so, visit Belle and June. It's a home décor company. Their product range includes home decoration, furniture and associated services. You can read the customer reviews on our website's online shop which could be beneficial to the people desiring to furnish, decorate or renovate their houses.
About the Belle and June
Belle and June
, Home Decor or belleandjune.com was established by Ms Jordana from Quebec, Canada. Jordana named the company 'Belle and June' as Isabelle is her daughter's name and June is the month of birth of her son Jesse. The company 'Belle and June' offers a range of products that are notable in the decoration of a home, office, restaurant or other places of gatherings and meetings. They have contracted with different manufacturers and craftsmen to complete a possible range that could include the props used for decoration.
Products and services provided by the Belle and June
At belleandJune.com, you can find trays, vases, jars, pillows, throws, rugs lightning, mirrors, picture frames, clocks etc. for decoration of the living room, bedroom, dining and guest areas. The furniture they offer includes side tables, cabinets, sitting couches, stands, tables, desks and many others. You can also find bathroom accents, vanity trays and towels. There are table tops including barware, salt and pepper sprinklers, napkins, table cloths, plates, bowls etc. Belle and June, babies and children range have blankets, pillows, beddings and other items for kids room decoration. They also have furniture for outdoor sitting and decoration items.
Their shipment arrangements are not limited to Canada or the United States of America but they can also fulfil orders from around the world. To make deliveries in the lowest possible time, their manufacturers dispatch the orders right from their warehouses. The Belle and June products are manufactured at different production units in different locations to improve their supply chain. The products range comprises multiple colours and materials of all possible types procured from around the world to meet their production needs.
Compliments, Complaints and Tips for the Belle and June
belleandjune.com also answers the questions and they are keen to hear about their products and services. They also have social media presence where customers with the experience of their products can leave comments and feedbacks. You can also leave your review and feedback here on Reviewsbird.com to let others know about their products and services. Your honest customer reviews will be highly appreciated.