Reviews Enjoythewood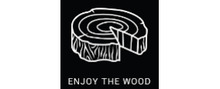 A delighted home presents happy lives. The house has a particular relation with wood crafts. Wood designs make the home inspiring. So, to enjoy the wood inspired by you and to make your home interior glamorous, the best platform in this regard is to enjoy the wood. This online store creates customizable woods of fine quality that adorns the houses, offices, and lives. All the items of EnjoyTheWood are hand-made.
The shipping policy of the store is reliable for customers. EnjoyTheWood ship worldwide. The shipping time can vary a bit. However, the processing time remains the same. The product is shipped within 1-4 business days. The shipping charges vary according to the location. The product is shipped in polystyrene packaging with gift wraps. The store offers 100% guaranteed delivery as it ship through UPS.
What is product is not designed according to you? You don't need to worry as EnjoyTheWood provides guaranteed return and exchange. The return can be claimed within the first 30 days. The non-personalized products, non-custom and not on clearance, are valid for return. After your exchange is approved, the non-personalized products are replaced, and cash for other non-custom products is refunded.
About EnjoyTheWood
EnjoyTheWood is a wood customizing company that creates hand-made wooden products. It is a local brand. The effects of this online store are manufactured in Ukraine since 2004. The company has sent its Wooden maps to 100,000 customers. The company provides 100% guarantee satisfaction in its products. EnjoyTheWood aims to offer customizable products of fine quality wood. The products can inspire you to travel, to learn, and to explore more around the world. The company manufacturers are famous for their hand-made wooden products worldwide.
EnjoyTheWood Products and Services
EnjoyTheWood provides beautiful products, including Wooden maps, recipes book, Globs, City Plans, and many products you can explore to make your home admiring. The world maps are available in 3D and 2D versions. The variety is available in the colour selection. You can choose 3D natural colour maps, 3D coloured maps, 2D natural coloured maps, 2D coloured maps. EnjoyTheWood provides a lifetime warranty on maps.
The maps package includes boats, a compass, and wooden aeroplanes. The maps are easy to install on walls within an hour. Instructions are available within the package. The wooden maps are designed such amazingly that they do not leave holes on walls.
Proud To Be Featured By
EnjoyTheWood is a local brand that manufactures hand-made wooden products. The products of this company are featured by Forbes, Newsweek, The Guardian, ELLE DÉCOR, Road Affair, and many such like sponsors.
Compliments, Complaints, and Tips for EnjoyTheWood
A unique home is the desire of everyone. Do you love to decorate your home? Have you purchased a wooden map from our company? We will be happy to know honest customer reviews about our products. Also, tell us what problems you have faced in your experience with the product. Make sure to leave detailed feedback. Your reviews and tips will help us to improve our services.