Reviews Gerber Childrenswear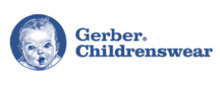 Infant clothing refers to clothes that are designed for use by children. Typically toddler and infant clothes size depend on age. There are no industry definitions for the sizes of infant clothing. The practice, however, is to size clothes by months specifically for 0 to 3, 3 to 6, 6 to 9, 9 to 12, 12 months, 18 month and 24 months. A majority of retailers offers sizing charts which are based on children height, weight or both. Some of the significant aspects considered in the manufacture of modern baby clothes include mobility, ease of access and comfort. In western countries babies usually wear bodysuits. If there is enough warmth, these might be adequate for both nightwear and daytime. For colder weathers, these might be used as underclothing beneath outfits that are identical to those worn by adults, with the outer clothing having child-friendly features such as images of cartoons. Infant clothing often have zip or snaps fastening as they are friendlier to kids than traditional buttons. While looking for babies clothes, one of the most crucial aspect to look for are soft clothes to ensure the baby isn't hurt.
About Gerber Childrenswear
Gerber Childrenswear is a company that specializes in the marketing of toddler and infant apparel as well as products that provide all of daily core layette apparel such as onesies a brand one piece sleepwear, underwear and accessories needed by moms for the initial years of an infant. The company is the owner and maker of the Onesies brand, which has been a babies wardrobe staple products for over three decades in the US. The company was founded in 1927 by Daniel Frank Gerber in Fremint, Michigan. The company has the Gerber baby portrait featured in all its products. It is believed the Ann Turner Cook is the Gerber baby in these images. The Gerber baby is now grown up and is a mystery writer as well as a retired teacher. The company has grown to a globally recognized brand in the baby apparel industry.
Products and services of Gerber Childrenswear
The company offers its products in various categories which include baby girl, baby boy, toddler girl, toddler boy. In baby girl and baby boy, the company offers its products in various categories which include Preemie, newborn, 0-3M, 3-6M, 6-9M, 12M, 18M and 24 M. In Toddley boy and toddler girl the different sizes offered include 2T, 3T, 4t, 5T ,Preemie, 0-3m, 3-6, and 6-9M.
Compliments, complaints and tips for Gerber Childrenswear
The company is dedicated to offering a seamless client experience. It has a clear return policy, and if a client isn't satisfied with a product, they can always initiate a return. The returned product should be in its original package and should be returned within 60 days from the date of purchase. Gerber Childrenswear accepts even unwashed and unworn merchandise provided they are in their original packaging. The company also has a clear privacy policy and doesn't share any information provided with any third party. If you have used their products, leave a review on US-Reviews.
online shop with me *quarantine edition* | PRINCESS POLLY, MISSGUIDED, URBAN