Reviews In Season Jewelry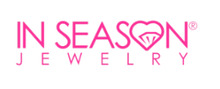 Jewelry looks quite stylish and fun on children as well. If you want to style your kid with some jewelry, you should choose In Season Jewelry for some very fashionable and modish pieces. It provides you with different themes of styles. You can now buy jewelry for your children aged between 0-17. You also have an option to personalize your jewelry according to your needs.
In Season Jewelry deliver their item both nationally and internationally. They also have tracking services for their customers, with free 90 days money-back guarantee. In case of any problem, you can contact their agent through chat, email, or call. They accept payment through all major credit cards, including PayPal. You can look for the appropriate size from the size chart provided.
All the pieces of jewelry are designed passionately in the USA. They plan their services to satisfy their customers completely. Are you concerned about the issues? Just hit up the online agent and get your problems solved. Consider giving us the reviews on our website to help others make the right choice.
About In Season Jewelry
This company provides a variety of different products for their customers. You can buy necklaces, earrings, jewelry sets, bracelets, rings, e.t.c for both boys and girls. You can also customize the order according to your style. Moreover, 14k gold, sterling silver gold plated, and 925 sterling silverjewelry pieces are also available. A variety of different kinds of earrings are made and sold. The color of the items may vary from product to product. Attractive enamel and animal jewelry in trendy and popular designs are also delivered. Religious, communion, and confirmation jewelry are also available.
In Season Jewelry Product and Services
All the orders of this online store exports from Floride, USA. Domestic and international orders are shipping through different shipping services like; free shipping, standard shipping, expedited shipping, and express shipping. Individual shipping services provide separate delivery charges and delivery timings. They provide worldwide shipping with few exceptions. Also, you can return or refund your items with 90 days. But the item should be unworn and in its original condition. It is vital to know that craved customized items are not eligible for exchange or return.
Jewelry care and safety tips
It is fundamental to know that all the products strictly follow CSPIA and ASTM F 2921-11 requirements. Therefore safest materials are employed as a material. We recommend you to supervise your kids under three years at all-time wearing jewelry. Small jewelry may present a choking hazard. No dangerous metal such as; lead, nickel, and cadmium is employed.
Compliments, Complains and Tips of In Season Jewelry
Whether you are looking for beautiful heart jewelry or some protection jewelry for your child, it will help you buy children's jewelry for any event you wish. We request the customers to tell us their experiences and feedback on our website and let others know their quality. Customers desired to share their opinions with us. Customer review is very beneficial, and we shall be looking forward to it.