Reviews Reborn Shoppe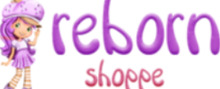 A reborn doll is an art doll made from a manufactured kit or doll that an artist has transformed into a human baby. Reborning is the process of creating a reborn doll while the doll artists are called reborners. The history of reborn baby dolls dates back to the 1990s when doll lovers craved for more realistic dolls. This marked the start of a community and industry of reborn baby dolls. Reborn dolls are used to cope with the grief of losing a child. At times they are also used as a portrait of a grown, they are also used just as regular dolls and played with then as if they are a child. Reborn dolls have received some criticism, critics arguing that they may be harmful and at times questioning whether they help in dealing with grief. Reborn dolls are usually characterized by a huge resemblance of real babies and are at times mistaken with the real babies, especially when left unattended, especially in car parks.
About Reborn Shoppe
Reborn Shoppe is a company that was established in 2012. It specializes in offering its clients with quality reborn dolls at reasonable prices. The story of the company dates to that of Jane, a friend of the founder who lost her baby jad in 2010 and has since then been in pain missing jad. One day she decided to make a silicone doll that looked like her baby. After three months, she completed it. This inspired Reborn Shoppe, a company that helps mothers pick their hopes once again.
Products and services of Reborn Shoppe
The company offers reborn dolls in a variety of categories, which its sorts by size, Gender, popular series, and African American. As far as popular series is concerned, the company offers Twin A, Twin B, Harlow, Levi. Joseph, Darren, among others. By gender, the company offers Reborn boys, Reborn girls, and reborn twins. By size, the company offers various dolls between 10 inches to 22 inches.
Compliments, complaints, and tips for Reborn Shoppe
The company is dedicated to offering a seamless client experience. It has an FAQ section where commonly asked questions are answered. It also has a clear return policy. If you get a misprinted or damaged item, submit a support ticket and attach clear photos, and the company will issue a refund. The refund process usually takes about 72 hours. The company also ships its products to clients. Once a client makes an order, the company makes the reborn doll and designs it as per the client specification, which takes about 2-5 days. The company then ships it and send an email notification. Reborn Shoppe usually uses FedEx/USPS as their delivery partner and allows the client to track their package once they have arrived in the client's county. Once an order has been shipped, a client can't change the shipping address. The company offers free worldwide shipping, and an order will take 15 to 30 days to arrive. If you have used their products, leave a review on US-Reviews.
Impulsive Online Shop with Me