Reviews Admitad Lite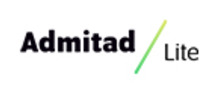 An Affiliate Network is midway between merchant affiliate programs and affiliates. It permits website publishers to participate easily and find affiliate programs that are appropriate for their website. It also permits websites that offer affiliate programs to reach a bigger audience by promoting their affiliate program to all the publishers that participate in the affiliate network. Some of the uses of affiliate networks are that they make it possible for merchants to provide publishers with a portion of any revenue that the merchant generates from visitors who visit a publisher's site or from a fee that each visitor of a publisher's site is charged for completing a specific action. Most merchant programs usually have a revenue-sharing model as contrasting to the fee-per-action model. Affiliates are generally able to join the affiliate network for free. Merchants are, however, charged to participate.
About Admitad Lite
Admitad refers to an affiliate network that gathers advertisersand publishers together on a single platform, aiding them to collaborate. The company offers help to both sides by offering training, technical support, consulting services, checking the quality of affiliates and providing tools such as analytics. The company has more than a million publishers and has gained the trust of various reputable companies such as iHerb, Emirates, Booking.com, Lamoda, MTC, Lacoste, among others.
Service Shoes for Everyone Song TVC by Red Communication Arts 2012
Products and services of Admitad
Admitad offers a variety of programs under various categories, which includes advertisers and publishers. As far as publishers are concerned, the company monitors advertisers ' ensuring that they meet their responsibilities, to publishers, for example, through confirming and publishing orders on time. In advertisers, the company has publishers with an exclusive audience in numerous countries that offer a broad selection of advertisement spaces to choose from. From loyalty and cashback programs to Youtube channels, social media and messengers. Admitad also offers a browser extension which is a tool that enables browsers to have new functionalities which user will use to search for any information on the internet. Admitad released its first extension about four years ago with the main aim of providing publishers with the opportunity of opening a website for an e-commerce store that is joined to the Admitad Lite affiliate network and make it possible to create an affiliate link in a single click. Publishers can then share the link with their subscribers or friends and be rewarded for every purchase they make.
Compliments, complaints and tips for
Admitad
The company cares about the well-being of its clients and assures them of brand safety and honest sales. When an ad is placed through Admitad, the company assures its client that they are paying for high-quality traffic and real actions and that their data is safe. Admitad main aim is to make sure that online advertising, the market is transparent and honest and thus has strict rules while working with affiliates. It also ensures that the data shared is safe and does not share crucial information with anyone. If you have used their products, leave a review on US-Reviews.