Reviews Best Priced Furniture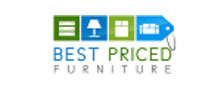 Comfort and rest play important role in a happy life. When you are at home you need to stay away from the stress of the outside world. It's imperative to furnish your living area and office with comfortable furniture matching your space, budget, and choice. Are you looking for furniture to be placed at your home or office? There are many reasons which make your purchase experience great or worse. These include the quality of material, colors, and shape of furniture. The furniture you choose online can affect your comfort and peace, both mentally and physically. Read the online review about the furniture sellers before planning your purchase. Consider the reviews so you can select a unique variety of furniture for your kids, home, and office.
About Best Priced Furniture
Best Priced Furniture is one of the online stores, who offers home and office furniture for sale, to consumers through several skilled manufactures. It has been established and selling online furniture to its customers since 2003. It provides the platform to customers who want to purchase furniture online and to the manufacturers who want to sell their furniture items. Best Priced Furniture guides their customers for the selection and purchase of furniture according to their comfort, design, and budget needs. Best Priced Furniture ships products anywhere in the United States. If you are in California, you can visit California Furniture Store. This store has a curated selection of products just for California customers.
Products and Services of Best Priced Furniture
The main purpose of Best Priced Furniture is to offer many furniture products online to their consumers from various manufacturers. Best Priced Furniture sells a variety of products online which includes home furniture for bedroom, living room, kids, and for office use. You can buy bedroom furniture for your house which includes beds, headboards, and mattresses. For office furniture, you can find different types of office chairs, conference chairs, desks, and other office furniture accessories at Best Priced Furniture.
Under the living room category, you can find living room tables, sofas, display items, and entertainment furniture. At Best Priced Furniture, Dining & Kitchen items including bar & counter stools, bar furniture, dining benches, dining room and kitchen furniture of different design and color are also up for sale to the clients.
You can also purchase kids' furniture and home decor items including clocks, mirrors, plant stands, wall shelves, and lamps. They sell Patio Furniture which includes garden stools, outdoor bars, outdoor lighting, outdoor seating, and patio umbrellas. The Best Priced Furniture offers free shipping services to their customers.
Complaints, Opinion, and Suggestions for Best Priced Furniture
Have you ever purchased any furniture item from the Best Priced Furniture? If yes, how was your experience? Do you want to give any suggestions? If you have any complaints we encourage and appreciate you to share them with us.This will help other peoples to decide their purchases and also help the company to get better. Share your review, experience & feedback with us.