Reviews LensDirect.com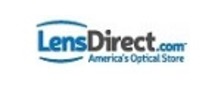 Spectacles
are pieces of glass, fixed in a frame that people wear in front of the eye. They are used for vision correction. After taking the glass number/power from the doctor, spectacles or glasses are made. The glass is a concave or a convex lens. They are used in short and long-sightedness to correct the vision of a person. The number explains the concavity and convexity of the lens. Other than vision correction, sunshades or sunglasses are used to avoid unnecessary sunlight flash. Sunshades are also fixed in a frame but the glass used in them has no power. They are commonly used to lower the intensity of sunlight while riding, driving and playing any sport.
Besides, there are safety glasses, used by welders, construction and metal worker for eye safety. With the advancement in technology, glass has also been replaced by the transparent synthetic lens. They are made to avoid eye injury from broken glass lens during the accident. Specific need glasses are also available. The 3D and 4D glasses are made to view 3D and 4D graphic movies in the theatre or in front of an LED television. Lens Direct is a company trading spectacles, sunshades and contact lenses from their online store. Our website has customer reviews and feedback regarding the products offered by lensdirect.com. People in need of spectacles, lenses or sunshades can read the reviews to have a possible idea about Lens Direct overall services.
About the Lens Direct
Lens Direct
is a family-owned enterprise founded in the United States of America in the early 1990s. lensdirect.com was developed to provide replaceable lenses, vision correction glasses, sunshades and blue light blocking glasses. Lens Direct has been selling products and services for the last 30 years. They are providing home delivery services like other online stores. 30 days return option is also available with their products but upon fulfilment of certain conditions.
Products and services offered by the Lens Direct
lensdirect.com is an online retailer of various brands. They are offering contact lenses of Acuvue, Air Optix, Avaira, Biofinity, Biomedics, Dailies, Cooper Vision, Fresh Look, Sof Lens etc. These lenses are available in all possible correction powers. Three types of packing sizes produced by the brands are available. They are offering daily from disposable, weekly and long term usage lenses of all brands available in their online store.
In eye correction glasses, they are offering Alden, Blair, Crispin, Duncan, Emory, Essex, Fullerton, Harper, Lenox, Madison, Prince and many other brands. These brands are also available in different colours like brown, black, golden, grey and few others. Customers can select the glasses from size, shape, colour and gender filters. Sunshades are in different sizes, shapes and colour. The available brands are Eldon, Blair, Crispin, Duncan, Emory, Ludlow, Kate, Prince many more.
Blue light blocking spectacles and glasses that save us from headaches, blurred vision, and disrupted sleep can be found in a separate category. The blue light defence glasses are anti-glare and UV protected. They clear the blue light from the sight and magnify things better.
Compliments, complaints and tips for the Lens Direct
Trustpilot ratings are available on lensdirect.com which shows that the ratings are legitimate. Every visitor can see these ratings. Besides, the BBB Business rating is also present on the website to provide an overall rating of aspects like capital, structure, products, services, taxes and law abidingness. Do you want to share your purchase experience? You can also share your experience here on ReviewsBird.com.