Reviews Pyramyd Air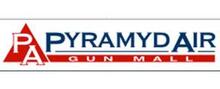 An air gun refers to a gun that pneumatically fires a projectile containing compressed air or other pressurized gases and doesn't involve any chemical reactions. Air guns are contrasted with firearms that chemically pressurize gases through the oxidation of combustible fuels, which creates propulsive energy through the breaking of molecular bonds. The history of air guns dates back to 1500, and since then, they have been used for various applications such as sporting, warfare, and hunting. When fired, the guns did not produce smoke; this advantage gave the enemies a hard time identifying the shooter's position. The other advantage is that the gun was discharged faster and was quieter than the muzzle-loading guns. The increasing affordability of these guns in the early years and higher-power pre-charged pneumatic rifles allowed large projectiles and further target distance for competition purposes. Over the years, the demand for an air gun has increased. The increase has led to the need for a secure and safe buying store. There are different types of air guns, they include Spring Powered, Gas Piston, Pre-charged pneumatic, Variable Pump, CO2 powered, among others
About Pyramid Air

Founded and owned by Joshua D. Ungier, Pyramid Air is one of the biggest online retail stores offering airsoft guns, air guns, accessories, and ammo. The company provides gun lovers with almost anything they love. From pellet pistols for Olympic style shooting competitions to backyard plinking air rifles and CO2 air pistol replicas, Pyramid Air offers a wide range of products. The company has a warehouse in Ohio and have a large stock of guns from American, Asian, and European manufacturers. Their online chat and toll-free number help customers to get assistance.
घर बैठे लाखो रूपए कमाओ धूम मचा दो | खुदका Online Store बनाओ | Wooplr के मदत से
Products and services of Pyramid Air

Pyramid Air offers a variety of quality air guns and accessories. Some of the company's air guns include the Trail scout CO2 Air Rifle, break barrels, Airforce, Gamo, Beeman, Umarex, Airsoft TSD Revolvers, 6" CO2 BB Revolver, Gauntlet PCP Air Rifle, Airsoft XDM GBB Pistols, Airsoft Glock Pistols and PPK/S Black BB gun among others. The company is authorized to do gun repairs for top brands such as Air Arms, Air Venturi, Beeman, Benjamin, Crosman, Eun Jin, Evanix, Mendoza, Seneca, Sam Yang, and many others. The company also holds shooting competitions and fun hunting trips. It also offers accessories such as traps, ranges, rifle cases, mags, clips, speedloaders, archery cases, shooting aids, knives, safes, and replacement parts.
Compliments, complaints, and tips for Pyramid Air
Have you ever used Pyramid Air's Air guns? Have you tried any air gun product from Pyramid Air? Did you experience any delay in the delivery of their products? How is their shipping policy? Were you satisfied with their customer support? How is their pricing? Are you able to track your order? Was the quality of the ordered product up to standard? Would you recommend someone in need of air guns to Pyramid Air? Would you like to give a tip, complaint or compliment?If you have used their products, leave a review on ReviewsBird.com.